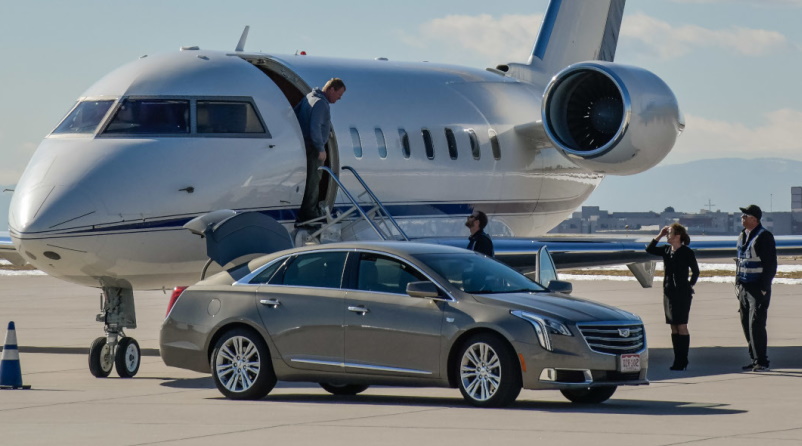 May 4, 2021 – New York, NY.   Business View Magazine interviews Mark J. Carmen, CEO of Modern Aviation, for our focus on Best Practices at U.S. General Aviation Airports
On December 26, 2018, the operating executives behind Modern Aviation, the "new kid" on the block as far as top-tier fixed base operator (FBO) chains are concerned, announced their acquisition of Gateway USA, LLC at King County International Airport's Boeing Field in Seattle, WA. It was a bold move and a consistent next step in the expansion of what they promised would be a national network platform of "premier FBO properties".
It also happened to be their third acquisition in less than a year's time.
Flash forward to today and the business employs nearly 100 individuals, having weathered the worst of the COVID-19 pandemic with absolutely zero layoffs. They've now got their sights set on sustainable development through additional acquisitions.
"Right now, we have three locations: Wilmington, NC; Denver, CO, which is at Centennial Airport; and Seattle, at Boeing Field," confirms President and CEO, Mark Carmen, who co-founded the company in 2017 with Emmanuel Yapo, a former executive at Atlantic Aviation. "We acquired the bases in three different transactions and we've since been trying to grow them by roughly equal amounts. Our acquisition criteria include size – we're looking for markets that are growing, for business centers as well as leisure centers, or both. And we're looking to expand our footprint throughout North America and the Caribbean. We're pretty open-minded about location."
Backed by Tiger Infrastructure Partners, a middle-market private equity firm with headquarters in New York City, Carmen says they're actively engaged in consolidating the FBO sector in a way that maintains the right culture and vision. "We want to emphasize high-end customer service, quality, and safety," he indicates. "We think those are the differentiators in our business, as well as our infrastructure and our facilities."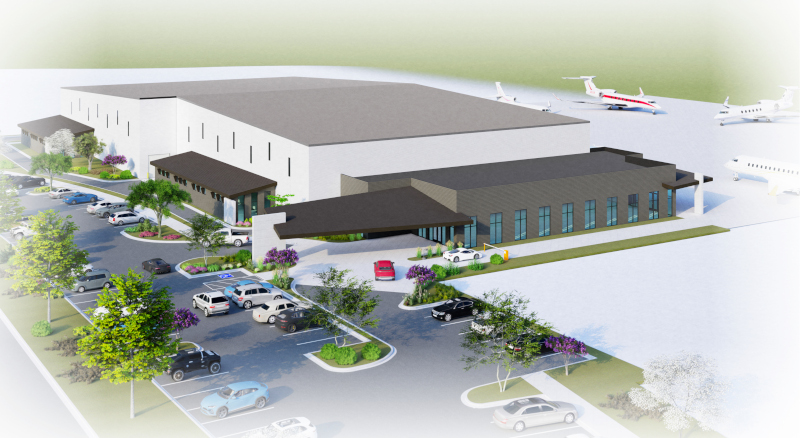 At this point in their evolution, they're figuring out how to scale that corporate culture as the business grows. "We're always looking for best practices," Carmen explains. "We're extremely focused on safety and have implemented a safety management system at each of our locations. We're IS-BAH certified with Stage Two certifications at Denver and Seattle, and Stage One in Wilmington. We also have a safety management team focused on compliance with processes and procedures. As a company, we hold quarterly staff meetings for all employees which, for the last year, have been on Zoom because we haven't been traveling. We are transparent with our team members about the company's results and plans, and keep our communication open with them, but it's been tough for them over the last year – being all masked up, with the enhanced cleaning and security protocols. But our team members are very engaged. They care deeply about the company, their colleagues, and our customers."
The company's mission statement is a fundamental tool of strategy, focus, and identity in this regard. "We want to treat our customers' aircraft as if they're our own," Carmen shares. "Another unique thing about our business is that it's very local. We operate a lot like a local business, even though we're creating a national brand."
Investing in communities by meeting the specific needs of their local markets is a skill that Modern Aviation is empowered and equipped to deliver authentically. "It could be shuttling organs for transplant or flying people for new business ventures, it could be a vacation or a holiday, it could be a military mission, it could be cargo," Carmen notes, establishing their versatility when it comes to running the day-to-day operations. "We touch all those different activities, depending on our location. We also do something that's a bit exceptional in Wilmington. Right off the coast is where military aviators perform a lot of their training exercises. Because a lot of their bases aren't open on the weekends, we negotiated a contract that authorizes us to conduct rapid refueling on their behalf. Sometimes they call it hot fueling – it allows the crew to get the aircraft refueled without shutting the engine down. We had to get special approvals from the airport, the military, and others to be able to do that because commercial airports normally don't offer this unique service. The military now can use Wilmington as a training center to catch the crews up on training hours and prepare them for deployments more efficiently, limiting the amount of time they are away from their families. That's something unique to our Wilmington location and it was what our military customer really wanted."
In addition to the typical FBO services, Modern Aviation proudly bucks the "one-size-fits-all" approach by providing tailored solutions inspired by the locations themselves, as well as their individual customers' preferences. By way of example, Carmen says that aircraft sales and acquisitions happen mostly out of Seattle, which is where their brokerage team is located. Wilmington, on the other hand, plays host to flight training programs and community outreach efforts such as the Cape Fear Community College initiative.
"Cape Fear is looking to start an aircraft maintenance program," Carmen shares. "We've written a letter in support of the school, offering our assistance in terms of inviting their students to come, shadow our mechanics, and learn from us. Because, if the college can get this program off the ground, we'll likely be the ones employing them."
Modern Aviation already works in partnership with the Carbonfund.org Foundation, a not-for-profit based out of East Aurora, NY, to enable customers at all three of their current network locations to purchase aviation fuel bundled with a carbon-offset. The company is further strengthening its name and brand identity by focusing on state-of-the-art upgrades to its existing portfolio of FBOs.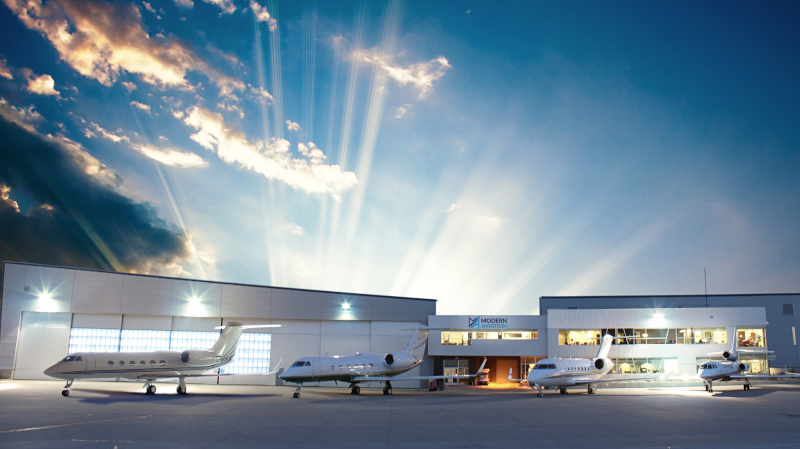 "In Seattle, we're doing a two-phase development project," Carmen confirms. "We're spending approximately $20 million. Phase One involved building a 40,000-square-foot hangar, which is now done. Phase Two includes a 24,500-square-foot hangar with an attached 7,500 square-foot office building. That's going to be completed this summer. We've also just started a full renovation of our FBO terminal. Every single one of our customers passes through this terminal, so we're doing a full gut rehab. That's about a 12-month project that we just kicked off last month."
Another $20 million expansion at their Denver location will see an entirely new, 7,000-square-foot FBO terminal built, along with two larger hangars (that's over 52,000 square feet of total hangar space), and 4,000 square feet of attached office space. "And we're adding 135,000 square feet of new ramp space," Carmen announces. "The ramp is sort of the equivalent to an airplane hangar, but without the building. The aircraft park there. So, we're more than doubling our footprint in both Denver and Seattle."
Denver and Seattle are among the top 20 busiest general aviation airports in the country, and they're exactly the kinds of growth markets that Modern Aviation is looking to attract. As flight activity continues to surge in the FBO market despite the pandemic's double blow to flying and the economy, the company's prospects, as well as the health of the FBO industry supply chain, are just as strong as they were when those two acquisitions were made.
"There are two sides to that coin," Carmen says. "The commercial activity plummeted with the lockdowns at the start of the pandemic, and it's still close to 50 percent down from where it was. But the private aviation activity has already rebounded almost to where it was in 2019. The pandemic impacted our volumes on March 16, 2020 – when activity fell off a cliff. It went into a tailspin, a 70 to 80 percent drop. And it was that way through April. In May, things started to turn around. Activities were probably a little over 50 percent down from 2019, but they slowly increased month over month through the end of the year, and that has continued in 2021. They've come back significantly now."
Carmen highlights that what's interesting about these numbers is the marked lack of business travel. "There are no conventions," he says. "There are no real sporting events. There aren't any concerts. And a lot of those teams and attendees fly privately. So, all that business is lost. In addition to that, there isn't much international flying going on. It's all been curtailed. So, what we've seen is a lot of new entrants in the private aviation industry. A lot of new fliers. And that's really due to the privacy, security, and health aspects of private aviation – you're not sharing the plane with people you don't know."
It's a trend that demonstrates that the outbreak of COVID-19 is having vastly different effects on aviation companies. Being on the right side of the draw, Modern Aviation has good opportunities to continue to grow through acquisitions. "As we scale, we create more opportunities for our employees, too," Carmen concludes. "It's all part of the same growth plan. There's a great deal of collaboration happening here, both with corporate team members and those at our locations, and between our locations."
Contact: Modern Aviation, Emmanuel Yapo, eyapo@modern‐aviation.com.